A painting by 20th-century Vietnamese painter Le Pho has been sold for nearly US$1.2 million at an auction in Hong Kong on Sunday, setting a new record for the highest priced Vietnamese painting ever.
The painting, Family Life (Doi song gia dinh), depicts an intimate family moment during a leisurely day.
It features the image of a mother and child against a lively background of people on the move: the toddler rests his head on his mother's lap, clutching her knee, while the woman rests her palms on the boy's hands and head, tilting her head down in a nurturing manner.
The painting, completed using ink and gouache on a silk canvas, was finished somewhere between 1937 and 1939.
At Sunday's auction organized by Sotheby's, one of the world's most prestigious fine arts auction house, Doi song gia dinh was sold for $1,172,080, shattering the previous record held by another of Pho's paintings, Nhin tu dinh doi (View from the hilltop), which was sold for more than $844,000 in 2014.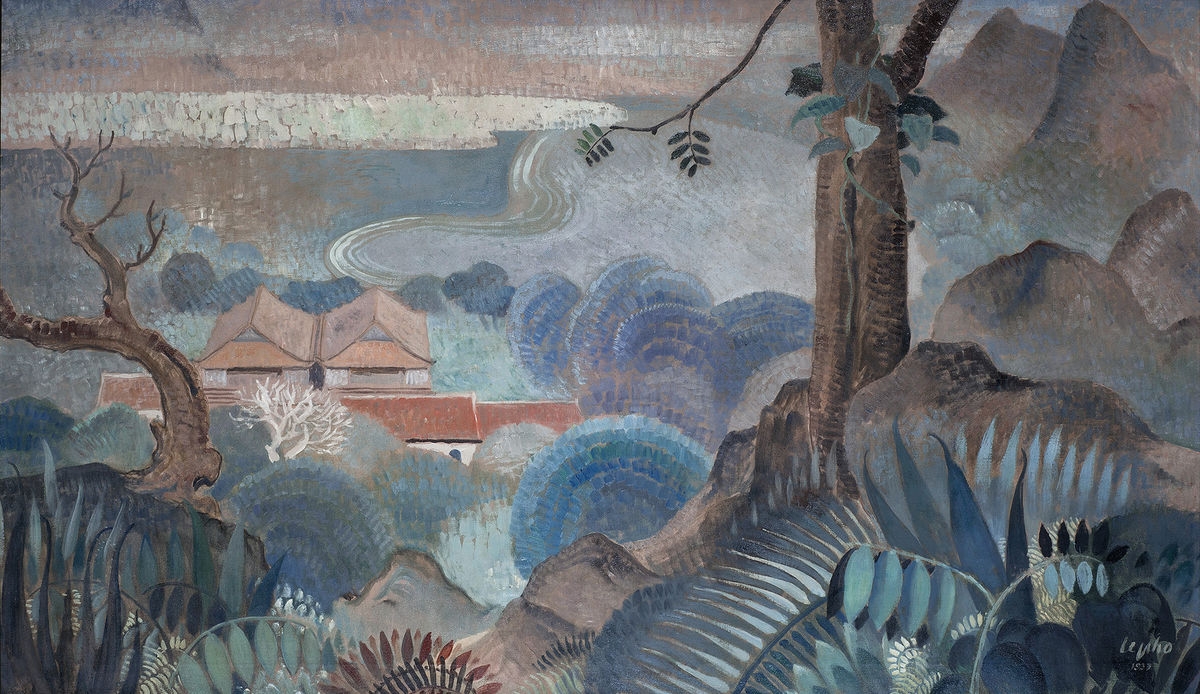 Le Pho's Nhin tu dinh doi (View from the hilltop)
According to art experts, the record price for a Vietnamese painter's work is expected to place Vietnam's fine art on the map and serve as a guarantee of quality at future international auctions.
"This is a crucial milestone, as it proves that somewhere in the corner of Asia, a Vietnamese painter has made his name known to the world," said Ngo Kim Khoi, a Paris-based art appraiser.
"The sale also brings hope that Vietnamese paintings will be sold at higher prices in the future, which is generally how the market operates."
Many local artists have regarded the news as "unsurprising", considering the fact that Pho's paintings have been known to sell at increasingly high prices over the past fifty years.
"Le Pho's paintings have been continuously auctioned by two of the most prestigious auction houses in the world [Christie's and Sotheby's] for half a century, so it should come as no surprise that one of his works would eventually surpass the $1 million mark," said Vu Tuan Anh and Tran Quoc Hung, who run local auction house Chon.
"What is surprising is that it took so long for Pho's works to reach the milestone."
According to painter Le Kinh Tai, Pho's works have made quite a name for themselves at international auctions for years, which is rare for even the most acclaimed modern Vietnamese painters.
"In the past, international collectors bought Vietnamese paintings out of curiosity or personal interest, rather than for their 'collectability' or as an investment in cultural value," Tai said.
According to Tai, the fact that a Vietnamese painting had sold for more than $1 million will mean that from now on, local works will be collected as a valued asset and a legitimate investment opportunity.
In Paris, Ngo Kim Khoi warned that the prediction would be realized if counterfeit paintings were eradicated from the local market, as multiple examples of fake works circulating have caused international collectors to approach Vietnamese works with caution.
Last year, a painting claimed to be by the late Vietnamese painter Bui Xuan Phai was sold for $102,000 during a charitable auction in Ho Chi Minh City, only to later be discovered to be counterfeit.  
"The true value of Vietnamese art will only be recognized if collectors, appraisers and those involved join hands in eradicating fakes," Khoi stressed.
Some other works of Le Pho:
The dressmakers
Breakfast
Portrait of Quy
Mother and son in the garden
A file photo of Vietnamese painter Le Pho (1907-2001)
Le Pho was born in 1907 to the Viceroy of Tonkin during the reign of Emperor Ham Nghi.
Growing up in a family of notable Mandarins, the fledgling artist lived a privileged life and received tutelage from the prominent artist Victor Tardieu, a French painter who founded the École des Beaux-Arts de l'Indochine in Hanoi in 1925.
Inspired by Tardieu's initiative in forming a new creative identity in Vietnam, Le Pho quickly found himself embedded in this new canon of modern art, which developed into a synthesis of Vietnamese and French styles.
In 1932, Pho was granted a scholarship to study at the École des Beaux-Arts in Paris, later returning to Hanoi to teach at the École des Beaux Arts de l'Indochine, before finally deciding to make a career for himself in Paris, where he would live until his death in 2001.
Le Pho was inspired by idealized themes and connotations of pleasure. Similar in brushstroke to French Impressionist paintings, his body of work often conjures vignettes of private interactions in domestic interiors and lush gardens.
Like us on Facebook or follow us on Twitter to get the latest news about Vietnam!